Here is room for both body and soul. Here is time for reflection, calm, creativity, soulful insights and meetings.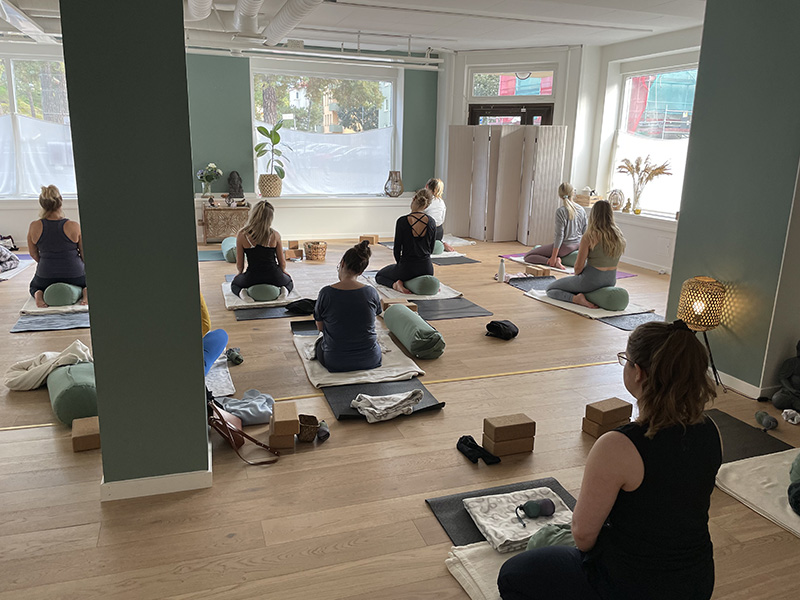 About the studio
Holistic House is more than a yoga studio. We have two yoga rooms, four treatment rooms and a PT studio. Here you have the opportunity to land, to grow, to find good conversations, to come and take care of and explore different parts of yourself. We believe in a whole and that yoga can be a tool for your unique self-leadership. We also believe in collaborations and that you may need support from different quarters. That is why there are also naprapaths, acupuncturists, masseurs, personal trainers, Reiki healers and other therapists.
We who work at Holistic House have solid experience and are interested in YOU and your health, we update ourselves on new research and development. All work with body and soul, common to all is a holistic approach to man. By a holistic approach, we mean that the whole is greater than the sum of the parts, everything is connected. Everything in a person's life affects more or less. We can look at the "little" but not without looking at the whole picture.
Hope you feel at home with us. You are very welcome!
What we offer
Here is something for everyone. We have a large selection of yoga classes, courses and workshops. Here is something for you who are a beginner and for you who have been yoga for a long time. We have pregnancy yoga, mother & baby yoga, family yoga, quiet and even more physically demanding yoga. Here you can also train with personal trainers, regardless of whether it is rehab, breathing techniques, yoga or sharpening your form in different ways. You will also find a varied range of physical training in small groups, as well as maternity training – through reputable PS Training.
We also offer various treatments such as acupuncture, naprapathy, Reki and more.
Our history 
The studio was opened in 2013 by Mia Lindén, under the name Mias Yogastudio. Since then, the studio has grown dynamically, initially with only one yoga room. Malou was the first yoga teacher to start holding classes with Mia, a collaboration and creation of the studio's range and future emerged. The studio also grew and now there are two yoga halls, a PT studio and four treatment rooms as well as a shop! Malou became a partner and the studio changed its name to MM Yogastudio.
Since 2020, Malou has been the sole owner of the studio, when Mia and Henrik moved to their dream house on Öland.
Now the studio is called Holistic House, a name that has been in my heart for a long time. Here in the house, everyone works with a holistic approach, a set of values that we all stand firm in.
Our values
We believe in people's unique opportunity and potential to stand in their power and in their best selves. The more often you take responsibility for your life and your mood, the more you will inspire others to do the same. Holistic House wants to be a place where you can let go of everything else for a while. We want to take care of YOU. We believe when you are in your full power, then you will find your flow, there you are unstoppable. Sometimes body and mind need a ride in the right direction, we help you get there.
Namasté
(nah-mas-tay)
My soul honors your soul. I honor the place in you where the entire universe resides. I honor the light, love, truth, beauty & peace with you. 
Because it is also within me.In sharing these things. We are united, we are the same, WE ARE ONE.
Malou Lejon
OWNER
I love to create space for people to meet and grow together.
Veronica "Vera" Holm
CUSTOMER SERVICE
If you have questions about us, it is mostly Vera you come in contact with. Vera is also one of our fantastic yoga teachers and holds workshops, part of the courses and classes at the studio and she is also a personal trainer.
Mattias Lejon
DOCTOR & BEHAVIOURAL SCIENTIST
Mattias has always been physically active and competed in cycling and skiing. He has both a degree from the Personnel Program (behavioral science, psychology and leadership) and as a doctor – specialist in general medicine. At a health center, you meet patients at all stages of life and, at best, the doctor can be a person who can influence both illnesses and lifestyle choices in a positive direction. Many times, however, time is short and the focus becomes more illness than health, so it feels fantastic fun to be a part of Holistic House where the focus is on health and exercise!
Mattias also works as a doctor at SLS – Stockholm's joint and pain specialist, who is the first in Sweden to offer stem cell treatment to private individuals. Read more HERE.
He has also worked as a doctor on bicycle trips, compiling research articles on intestinal bacteria and worked with other tasks related to wellness. In the yoga teacher training, he will, among other things, talk about different types of pain, breathing, and heart rhythm. There will also be space for questions and discussions on current topics.