START SEPT 2021
Yoga teacher training Hatha Vinyasa 200 h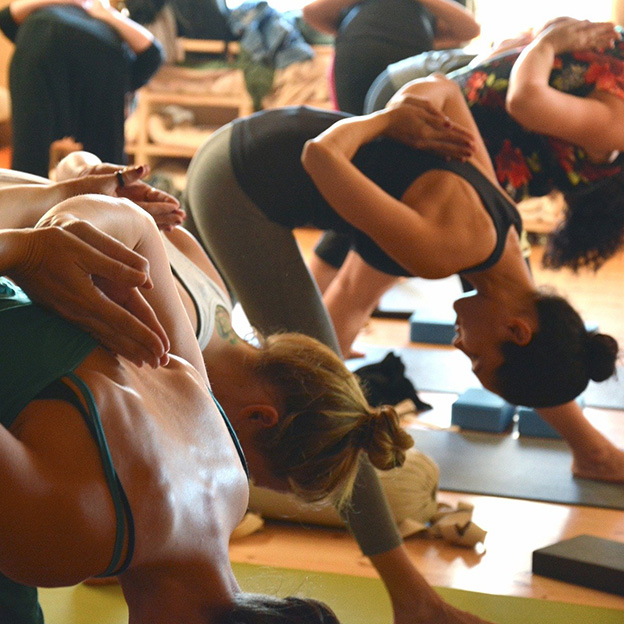 DATES: 25-26 sep, 22-24 oct, 27-28 nov, 10-12 dec, 14-16 jan, 18-20 feb, 26-27 march, 23-24 april, 14-15 may, 4-5 june
(Fridays 16:30-20:00, Saturdays and Sundays 09:00-16:30)
PRICE: 44 000 kr incl VAT. Installments can be arranged if needed.
Your journey starts here
We want this training to give you an in-depth understanding and knowledge of yoga philosophy and all its fantastic lessons and tools that are there. We hope that with curiosity and these tools you will get to know yourself on a deeper level.
A yoga teacher training that invests in you
This is an education that not only prepares you to become a yoga teacher but also opens doors to make an inner journey. How can you live your life to the fullest given the place you are in life right now? How can you more often live in line with your values ​​and your purpose. And is there an opportunity to inspire others to do the same?
Through this yoga teacher training, you will develop yourself at the same time as you find your own way of teaching. You will learn sequences, gain understanding and knowledge of how to put together your own sequences, you will learn about alternative exercises and learn how you as a yoga teacher can help and guide others of all ages.
This yoga teacher training training is for you who have practiced yoga and now want to learn more and want to pass on to others. Even if you do not have a dream of instructing, you can attend this training, the tools you will benefit from both in your private life and in your professional life. Our goal is to help you find your purpose and your inner unique voice and also have fun during the journey!
Please contact us if you have any questions.
OUTLINE OF THE COURSE
Anatomy and Asanas
– Basic anatomy, Nervous system and fascia
– Basics of the Endocrine system
– Basic positions
– Modifications
– Common injuries. Tension and chronic pain.
– Bandhas
Ayurveda
– Introduction to Ayurveda in life and on the yoga mat.
– Deeper understanding of the body's opportunities to heal through movement and by breaking habitual patterns.
Briefly about Ayurveda:
Ayurveda means the doctrine of life. It is an ancient medical system from India with the knowledge of living in harmony with oneself based on who one is and harmony with nature, to create optimal physical, mental health and prevent imbalances that can lead to illness and discomfort. Ayurveda will be a common thread throughout the training.
Pedagogy, methodology, sequences and your unique voice
– Pedagogy: what you see, hear and do
– Methodology
– Own practice
– Sequences and alignment
– Adjustments and corrections
– Observe and assist in classes
– The role as an instructor
Meditative methods, shavasana and Pranayama
– Breathing exercises
– Meditation techniques
– Modern research on these techniques
– Prana, mantra and mudras
Yoga traditions, philosophy and mythology
– The history of yoga
– Patanjalis Yoga Sutras,
– Bhagavad-Ghita
– Yamas and Niyamas
– Different yoga traditions
Yoga linked to behavioral knowledge and Western research
– Yoga for all ages
– The role as a yoga teacher
– The chakra system
Yoga as a profession
– We take up experiences, thoughts and ideas about how life as an active yoga teacher can be both full-time / part-time or as a fun extra.
BEFORE, DURING & AFTER
Before the course, when you register, you will receive a reading list and information that prepares you for the training.
During the course, free yoga training in all drop-in classes (if the pandemic mode otherwise allows free access to all our Online classes) is included. You will have the opportunity to make observations (if you live in another city, you are welcome here to observe, but it is also possible to observe other classes) You have full support from the head teachers throughout the education.
After the course, you will have the basic skills you need to start teaching yoga classes in hatha vinyasa and also lead meditations, as well as a deeper understanding of yoga as an approach. The goal is that you have gained a deeper understanding of your own development and that your inner journey, and that your curiosity continues . You can still turn to us with thoughts and questions that arise. We are here for you even after your training!